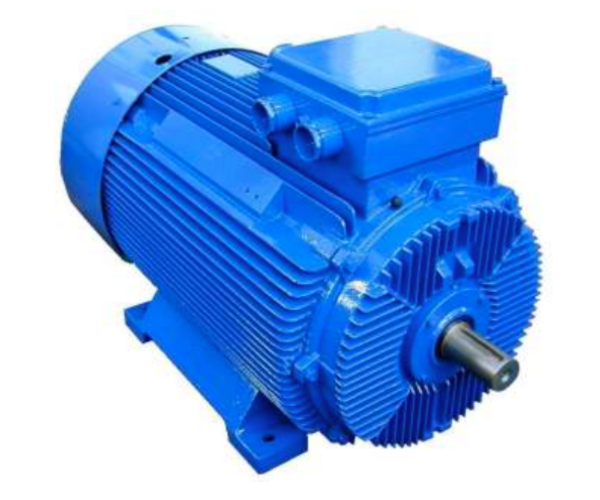 STANDARDS
The motors are manufactured in compliance with HRN, IEC and according to VDE and DIN relevant standards. On request, motors can also be constructed and tested according to other national standards.
The basic characteristics of the Series are:
high efficiency
low noise-level
insulation class F
adaptability to various requirements of drives
reliability in operation
low maintenance costs
simple installation and maintenance
Stator Casing
The stator frame is ribbed, made of gray cast iron or of welded steel plates. Motor feet are made of grey cast iron and are fastened to the motor frame by high strength screws according to the prescribed tightening torque. Feet of bigger motor are made of steel and welded to the frame of motor. Bearing shields are made of grey cast iron or of welded steel plates.
Motors have one external fan, and motors have two fans (internal and external). Fans are made of siluminum or welded steel plates. Fan cap and fan cover, which can be attached to the vertical motor with free shaft end turned downwards, are made of steel sheet. Stator core is made of high quality steel sheets.
Rotor
The rotor core is made of high quality steel sheets, and rotor winding of aluminum cast in special casttechnology or of copper. The shaft is cylindrical, without ribs, and made of steel.
Insulation System
The insulation system of stator winding is in thermal class and on special request motors can be manufactured in many calsses as well. The stator winding is made of round or rectangular copper conductors insulated by high quality varnish. Impregnation with impregnation varnish based on unsaturated polyester imide resin in conjunction with the bandaging of the coil group, which provides good mechanical and electrical performances and stability of the windings.
High quality materials and adopted technological process of impregnation ensure great mechanical and dielectric strength, resistance to the negative effects of environment and reliability of motors. All used materials are ecologically pure.
Bearings
Bearing assemblies with appropriate rolling bearings are situated in bearing shields. Grease lubricated rolling bearings are used. Bearing at non driving end is fastened and bearing at drive end is free. Bearings are provided with grease nipple, grease drain box and grease regulator. Regreasing is possible during motor running. In case of belt transfer care should be taken about the permitted radial loads. On special request, we manufacture motors with reinforced bearing assembly.
Direction of Rotation
Motors are made for both directions of rotation and motors for one direction of rotation according to customer requirement.
Terminal Box
The terminal box is made of cast iron or of welded steel and for motors of basic design is situated on top. The cable introduction is realized through cable entries. Bigger motors can have the auxiliary terminal box situated on top. The terminal box contains terminals for connection of motor to power supply and terminals for connection of auxiliary units (special design).
For protection against touch voltage there is a built-in plate with screws situated in the terminal box and protection against fault voltage on motor frame.
Auxiliary Units
For thermal protection, motors can have temperature feeler built-in in stator winding and in bearing assemblies. In order to prevent the moisture condensation during the still stand, air heaters are built-in in the interior of the motor. For speed regulation and protection the tachogenerator, pulse generator or centrifugal speed limit switch can be installed. For type of cooling motors have the squirrel cage fan driving motor situated outside of the motor under the fan cap.